Advanced Professional Massage Training
After completing the certification program at the Atlanta School of Massage, I was well prepared to dive into a new career as a professional bodyworker. I quickly learned, however, that there are a lot of things involved in professional practice that you don't learn in massage school!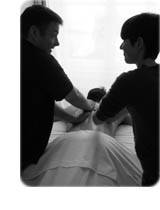 Nineteen years and over 20,000 massages later, I have come to understand the key elements that make a successful bodywork practice.
I want to share with you the extensive experience and insight I now have in making professional massage therapy a long lasting and rewarding career.
My professional training workshops are designed for individuals or small groups to ensure personalized attention, focusing on aspects that apply most to you.
Offer more satisfying massages and keep your clients coming back.
Expand your client base!
Learn advanced techniques for working deeply.
Enhance your professional presentation.
Learn strategies to stay motivated and avoid "burn-out".
Strengthen your critical intuition and listening skills.
The fee for the two day workshop is 900 euros for one person, or 750 euros for two or more.
In addition to weekend workshops, individualized half day training/consultation sessions can also be arranged throughout the year in Paris and La Rochelle. The fee for a half day (4 hour) session is 300 euros.
Contact Craig for more details!